Walton's Mountain Museum
Exhibits
---
WHAT ABOUT SCHUYLER?
Schuyler was once a booming town. More than 7,000 citizen lived here and over 1,300 people worked at our illustrious soapstone plant. We had a hospital, two hotels, three movie theaters,the largest commissary in Virginia, nine general merchandise stores, bank, jewelry store, our own railway system, two hydroelectric plants that produced elctricity to our homes since 1902,even an electric trolley that brought students to school. This soapstone was used for laboratory and chemistry countertops, fireplaces, sinks, foundations, foot warmers, and many other things!

Today Schuyler's population is less than 2,000, many of those businesses and places are gone, and the soapstone workforce is considerably smaller. However, the plant is still open and sales of soapstone kitchen and bathroom countertops and fireplace kits increase, more people are moving to our quiet rural town, and our future is bright!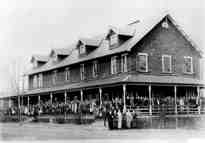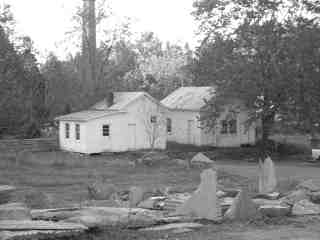 WHY IS THE MUSEUM HERE?
The creator of "The Waltons", Earl Hamner, grew up in the house across the street and he attended elementary and high school here in this building that is now Walton's Mountain Museum. The Walton characters, named Spencers in his book The Homecoming, are based on Earl (as the Clay-Boy later John-Boy character), his family, and life in Schuyler. None of "The Waltons" episodes were filmed in Schuyler except part of one, "A Decade of The Waltons", which featured his family at his boyhood home.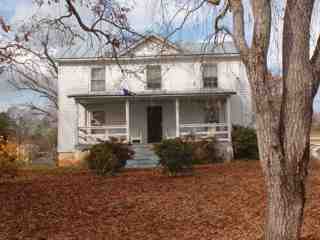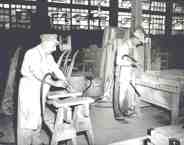 ABOUT THE MUSEUM
Walton's Mountain Museum tries to give our guests a sense of being with the Waltons. Our rooms are replicas and are not intended to be exact reproductions of "The Waltons" sets in Studio City, California. We do not have any props from the television show but many furnishings are reminiscent of those on "The Waltons".
JOHN-BOY'S BEDROOM
John-Boy's eyeglasses and "Big Chief" writing tablet are on his desk by the window. The replica room has his "Boatwright College" pennent, a wash basin, and dresser with mirror. There are dozens of pieces of memoribilia in display case in this room including books, paper dolls, action figures, ViewMaster(R) reels, thermos & lunchboxes, magazine covers, and much more!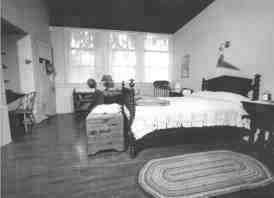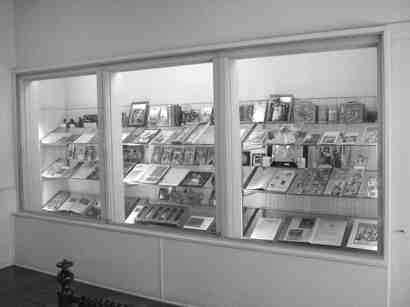 LIVING ROOM
This replica room is furnished to look like the set on the show plus the incorporation of the adjacent wall's staircase and fireplace. There were several weddings held here since the museum opened in 1992. The same model radio used in "The Homecoming" and "The Waltons" is prominately displayed in the living room.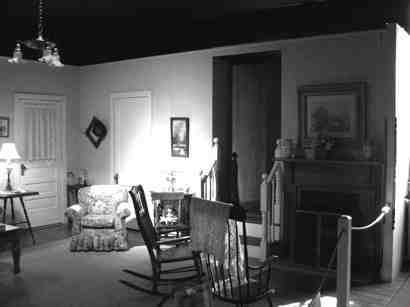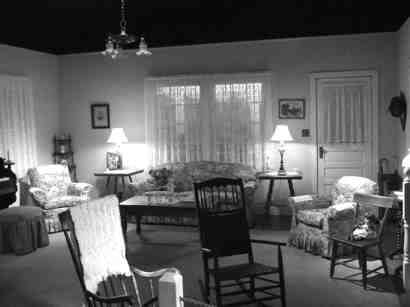 KITCHEN
This replica room is also furnished to look like the set on the program. It features a long table and benches, at which the family ate meals, an old wood cook stove, period cabinetry, an antique hutch, a wooden ice box, iron & board, and butter churn. You can smell something baking in the oven! NOW!! THE CAMERA, DOLLY, and LIGHTING USED IN 182 EPISODES OF THE WALTONS!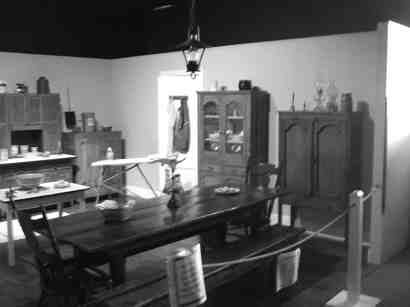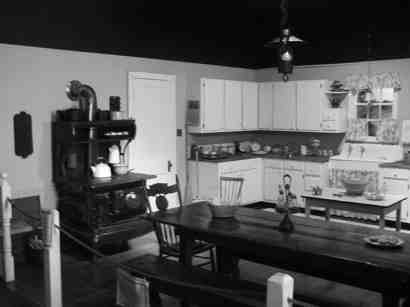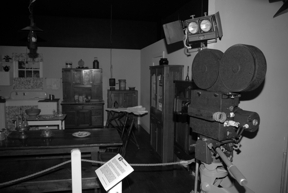 "RECIPE MACHINE" ROOM
We have an actual "moonshining still" that was seized by local authorities, pictures and information about "the Baldwin sisters" and information about their unintentionally illegal trade.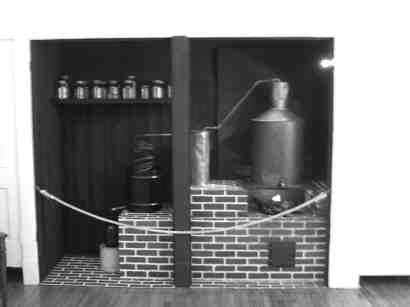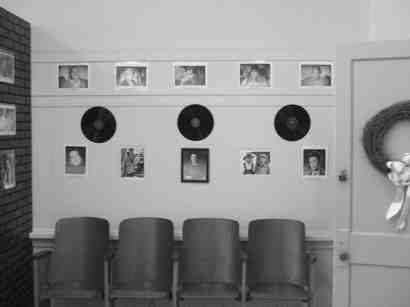 EXHIBIT ROOM
This room displays models of things seen on "The Waltons" or during that time period. It includes a magnificent miniature model of "The Waltons" set, trains, automobiles, Ike Godsey's Store, and Snead's Store, which was the basis for Ike's Store. There is a wedding dress from the 1930s and "The Waltons" 1975 doll farmhouse. There is a soapstone display, a stone quarried and manufactured in Schuyler. Once a large and prosperous industry in Schuyler from the late 1800s through mid 1900s, Earl Hamner's father actually worked there.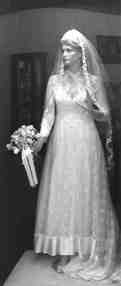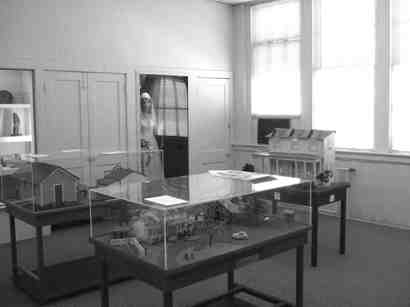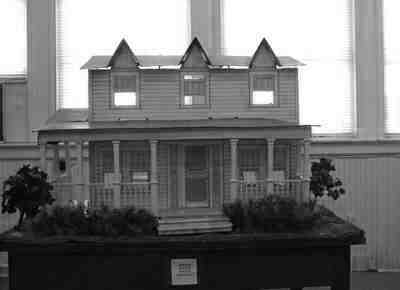 SCRIPTS ROOMS
Many of the original manuscripts of "The Waltons" are housed in the upper shelves in the beautiful cabinets in this spectacular room. Manuscripts from other works by Earl Hamner, such as "Chitty-Chitty Bang-Bang", "Charlotte's Web", "Twilight Zone", "Heidi", "The Education of Little Tree", "The Wild Thornberry Movie", and "Falcon Crest" might be housed on the lower shelves.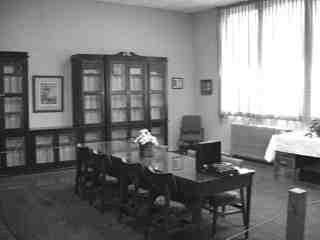 THE GREAT HALL
This hall displays pictures of the HAMNER family, which was the real-life family fictionally portrayed as "The Waltons", the stars of the show, and the connection to the two families. There are trivia questions, an obituary memorial, a height comparison wall, and a display of works produced or written by Earl Hamner. We honor Schuyler's history through numerous photographs and graduation pictures.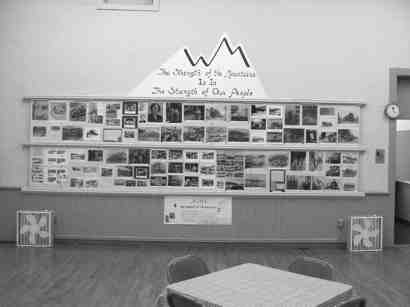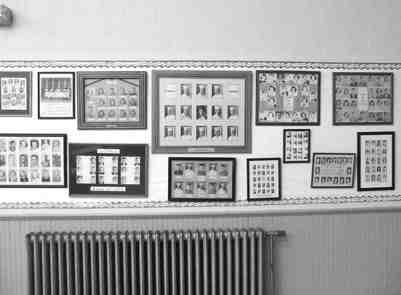 IKE GODSEY'S STORE and SOUVENIR SHOP
This room is more like a traditional old country store and post office than "Ike Godsey's General Merchandise Store" on "The Waltons" but it should bring back some of those good feelings. It has many antiques like a section of combination-lock mail boxes, an old crank telephone, old store display cases, a drink box, a weight scale, a coffee grinder, and many old bottles and tins of long-forgotten products and companies. It is also our souvenir shop that offers books, DVDs, WWM gifts, and local crafts. You can have your picture taken, using own camera, with an Ike and Cora Beth cutout inside of the post office. click to souvenir shop Post cards purchased and mailed from our souvenir shop will be specially stamped "Walton's Mountain, Virginia" by the post office next door.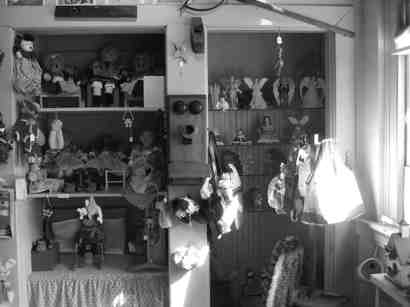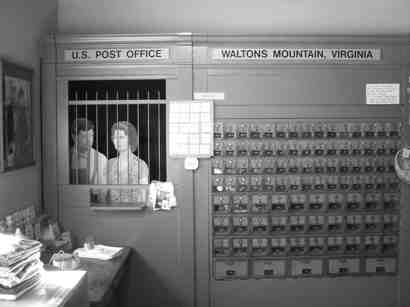 ---
Back to the Museum Home Page